In just over a week's time, Luke Browning and Joel Granfors will battle it out at Donington Park to become the 2022 GB3 Champion. But how did the duo, driving for Hitech GP and Fortec Motorsport respectively, become the main challengers for the title? We find out below.
Oulton Park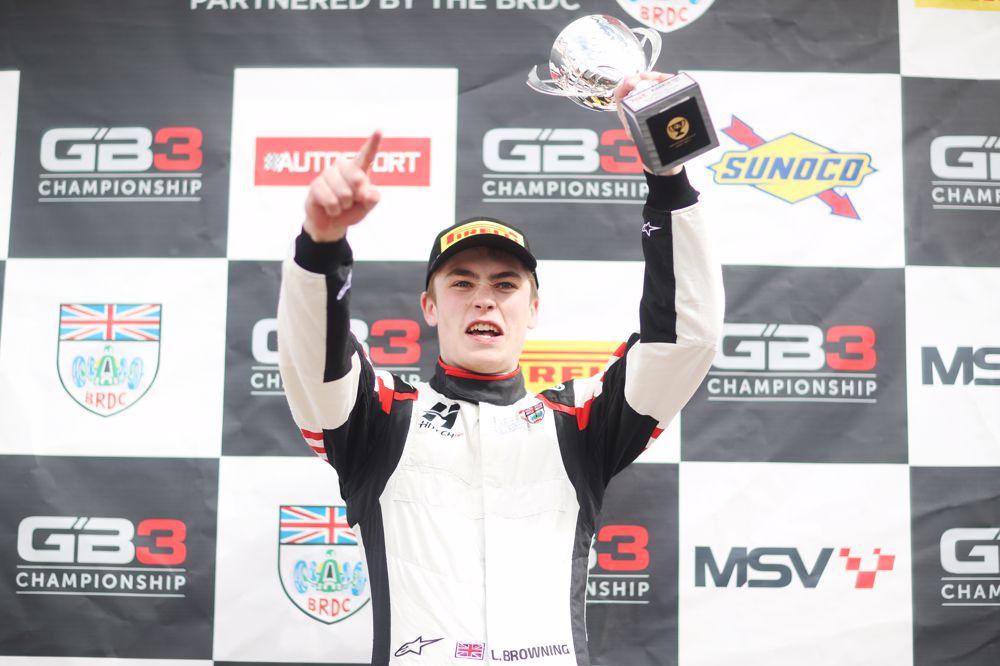 Browning starts with a bang thanks to a sensational double victory. The Brit earns pole position for the opening two races, just 0.041s quicker than Granfors, but it's a different story in the races. Browning blasts into the lead on the opening lap and doesn't look back as he wins by over 10 seconds, while the Swede drops to fifth and then loses over 10 seconds on the final tour, falling a further place to sixth. Browning is almost as dominant in the second contest, as he beats Roberto Faria by 8.9 seconds, with Granfors third. A collision in the third race wipes Browning out of contention, but Granfors takes 15th from 18th on the grid as teammate Mikkel Grundtvig wins. Browning heads the championship by seven points from Faria, with Granfors tied in fourth place with two other drivers, and 25 points off Browning's early tally.
Silverstone


Granfors closes the gap with a superb trio of races. The Swede enjoys a pole double in qualifying, and converts the first into his maiden victory, finishing seven tenths of a second clear of Browning, but slips behind Tom Lebbon in race two and takes second with Browning third. Starting 20th and last for the full reverse grid race, Granfors surges through to ninth place, earning 11 points for positions gained alone, while Browning can only manage a single place gain to 17th. A big points swing means Granfors leaves the home of the British Grand Prix with a three point lead over Browning at the top of the table, with the lead duo already 32 points clear of their nearest rivals.
Donington Park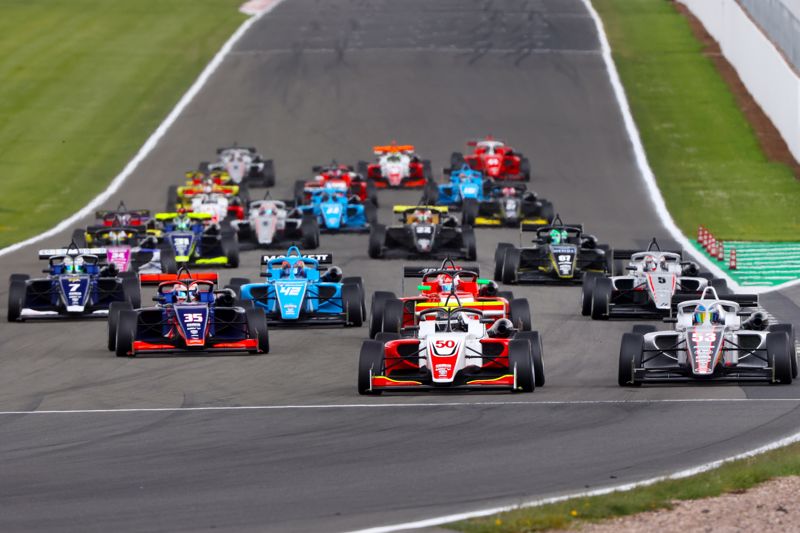 Drama in the East Midlands after a collision wipes both drivers out of the first race. Granfors and Max Esterson take pole positions, but Granfors' race one advantage is nullified on lap one when a quick starting Matthew Rees challenges at McLeans, only for the pair to make contact and spin off with damage. Browning follows suit in avoidance and spectacularly bounces over the grass and retires also, leaving Callum Voisin to take a first win and Faria to draw level on points with Browning. Esterson wins race two while Browning and Granfors take second and third, before both fight into the top-10 from 16th and 21st on the grid respectively in race three, with Granfors the biggest gainer thanks to 10th place and Browning taking ninth. Granfors leaves Donington with just a single point advantage over the Hitech driver.
Snetterton


A battle royale in Norfolk! Browning retakes the championship lead after finishing second behind Voisin and ahead of Granfors in the first race. He then claims his first win since the opening weekend after a thrilling scrap between the title contenders that sees them make contact at high speed, having operated nose-to-tail for the whole contest and finishing just two tenths of a second apart. From 20th and 21st on the reverse grid, limited progress is made by both as Browning finishes 14th, a place above Granfors as Grundtvig wins again. Browning's championship advantage grows to 11 points as the championship reaches its halfway point.
Spa-Francorchamps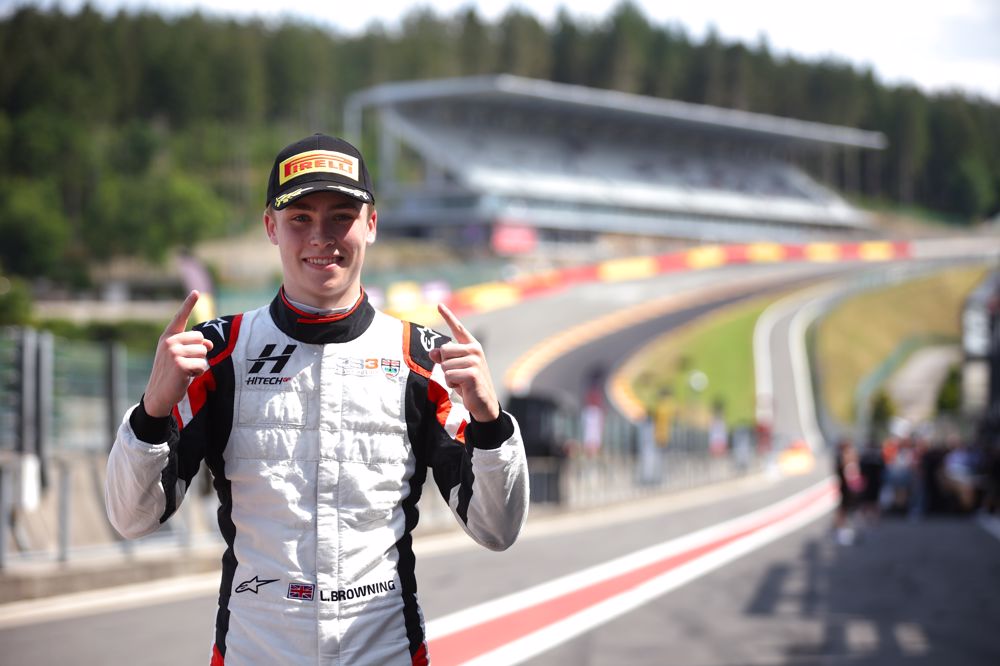 Browning is at his ominous best, lapping almost half a second faster than anyone else in qualifying to claim another pole double. His race performances are just as awesome as the Spa-Francorchamps circuit, as he dominates the opening two contests, finishing over six seconds clear of Granfors in race one, and 1.5 clear in race two. A chaotic and shortened race three means limited progress through the field is possible and half points awarded, with Browning 18th and Granfors 16th, as the British driver's lead grows to 30.5, the biggest seen all season.
Silverstone


Things look to be going Browning's way again, as he storms to pole in qualifying. But then more drama! His Hitech car and those of teammates Bryce Aron and Cian Shields fail scrutineering after the session and are sent to the back of the grid for all three races. Granfors takes full advantage by taking his second win of the year while Browning battles up to 10th from 21st on the grid. Lebbon takes his second Silverstone win of the year in race two as Granfors is third, while Browning is gritty again, this time 11th. Granfors completes a sensational podium clean-sweep in race three as he takes third from 18th on the grid, and Browning goes from 20th to fifth, but Granfors now holds an 11.5 point lead at the top.
Brands Hatch


Looking to right some of the wrongs from Silverstone, Browning is outqualified by Granfors, who is third fastest and Browning only fourth as Lebbon and Rees star on the Grand Prix circuit. The title duo go wheel-to-wheel on the first lap of race one, with Browning getting the advantage. He then applies big pressure to leader Rees, but settles for second with Granfors seven seconds behind in third. Race two plays out in similar fashion, as Browning is again punchy on his way to second, this time behind Lebbon, while Granfors is fourth after getting caught up in early battles. Browning therefore retakes the championship lead with a 2.5 point cushion heading into the reverse grid contest. A dramatic restarted race sees Browning go from 17th to ninth, while Granfors picks up damage and has to pit, finishing a lap down and without a point, giving Browning a 16.5 point lead heading to Donington with 105 still on the table.
Donington Park?


The narrow margin of Browning's lead, and with so many points available, means that the championship can only be decided on the final day of the season in either race two or three. Get those calculators out, you may well need them!